Content Map Terms
Understanding Asthma
Learn about asthma symptoms and treatments.
Last updated: April 24, 2019
Asthma is a common chronic condition causing swelling and inflammation of the airways. Asthma may present with one or more respiratory symptoms. Symptoms of asthma include
Wheezing
Breathlessness
Chest tightness
Coughing
Asthma Attacks
Asthma attacks vary in intensity. The intensity may be mild, moderate or severe. Read the following topics to learn more about asthma:
Asthma in Children
Asthma affects children but it should not keep them from living a healthy life. Learn more about how asthma impacts children:
Watch a video to understand more about childhood asthma.
Learning that your child has asthma can leave you with many questions. This video will show you what asthma is, what asthma medications do and how to recognise and prevent asthma symptoms.
The BC Children's Hospital Asthma Program made this video with support from Child Health BC and the BC Lung Association.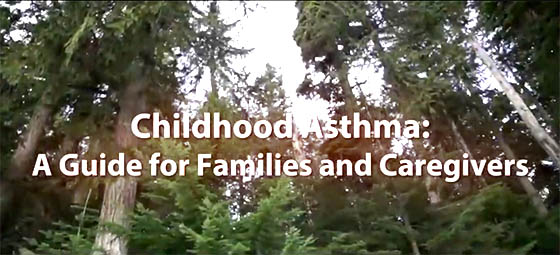 Asthma in Teenagers and Adults
As with children, adults may also be affected by asthma. Learn more about how asthma impacts adults:
Treating Asthma
Treatment strategies have been developed to get asthma under control. You may be already taking some of these medications. Learn more about how asthma is managed:
Asthma Medications
Living with Asthma
Practicing prevention can reduce asthma attacks and reduce illness. Prevention can help you avoid emergency department visits and help you live a full life. An asthma diary and an asthma action plan can help you keep track of how well and how to manage your asthma.
BC Asthma Action Plans
Your healthcare provider can help you identify asthma triggers so you can make the necessary lifestyle and environmental modifications.
Knowing how to self-manage your asthma symptoms and knowing when to seek medical care may help to improve your quality of life.
Lifestyle and Environmental Modifications
Some lifestyle and environmental factors can impact your physical health and worsen your asthma. Learn about lifestyle adjustments that can make to make living with asthma easier.
Lifestyle
Environmental
Immunizations
People with asthma are at higher risk for serious problems from certain vaccine-preventable diseases. It is recommended that people with asthma and their loved ones get vaccines to reduce the risk of these preventable diseases.
For more information about vaccines see:
Useful Websites
The Asthma Society of Canada: Provides free educational materials and resources with the latest asthma news and information.
BC Lung Association: A non-profit and volunteer-based health charity, the BC Lung Association offers in-depth information on asthma programs and educational resources.
The Canadian Lung Association: Publishes the Lung Association Asthma Handbook. This comprehensive guide is written in a clear, easy-to-understand style for people with asthma.