Content Map Terms
Learn about women's health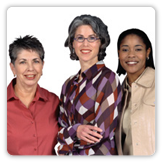 There is so much to know about the woman's body. And as your body changes with time, you are bound to have questions you never thought of before.
You can come here to explore a range of women's health issues. Get help with decisions and common concerns on topics such as:
Current as of: August 2, 2022
This information does not replace the advice of a doctor. Healthwise, Incorporated disclaims any warranty or liability for your use of this information. Your use of this information means that you agree to the Terms of Use and Privacy Policy. Learn how we develop our content.
Healthwise, Healthwise for every health decision, and the Healthwise logo are trademarks of Healthwise, Incorporated.