Content Map Terms
Topic Overview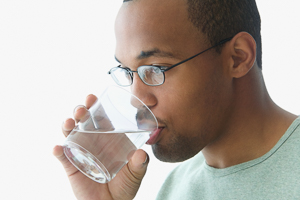 Why is it important to drink enough water?
Water keeps every part of your body working properly. It helps your body flush wastes and stay at the right temperature. It can help prevent kidney stones and constipation.
You lose water throughout the day—through your breath, sweat, urine, and bowel movements. If you live in a hot climate, you lose even more fluid.
You need to replace this lost fluid to stay healthy. If you don't get enough water, you could become dehydrated. If you get very dehydrated, your body no longer has enough fluid to get blood to your organs. This is dangerous.
Do you have to drink only water to stay hydrated?
All liquids help you stay hydrated. Water is usually the best choice, because it's almost free (if you're drinking tap water) and has no sugar or calories. But most healthy people can get enough fluid through the beverages they consume every day. 
Experts say that it's not true that beverages that have caffeine—such as coffee and tea—always dehydrate you. Healthy people who consume moderate amounts of caffeine don't lose more fluid than people who don't have any caffeine.footnote 1 Try to limit the amount of caffeine you have to 400 milligrams a day.footnote 2 That's about three (250 mL) cups of black coffee or four (250mL) cups of black tea.
You also get water through food. Some fruits and vegetables contain a lot of water, such as watermelon and lettuce.
How much water do you need to drink every day?
A common recommendation is to drink six or eight 250 mL (8 fl oz) glasses of water or other fluid every day. But some adults may need more or less, depending on how healthy they are, how much they exercise, and how hot and dry the climate is.
You may sometimes need to drink more water than usual if you:
Exercise intensely, especially in a hot climate.
Are sick, such as with the flu, or have a health problem like a urinary tract infection.
Are pregnant or breastfeeding.
How can you tell if you are drinking enough water?
The easiest way to know if you're drinking enough fluid is to look at the colour of your urine. If you're drinking enough water, your urine will be clear or pale yellow. A darker yellow means you aren't drinking enough water.
If you have any health problems, always talk to your doctor before increasing the amount of water you drink. You may need to limit your fluids if you have certain health concerns, such as kidney problems or heart failure.
It can be dangerous to drink too much water. But it's rare that anyone drinks too much water. The risk is highest for people who do endurance sports, such as running marathons.
Too much water is dangerous because it would dilute the amount of sodium in your body. This imbalance could cause serious problems, such as confusion, seizures, and coma.
Experts advise athletes who do intense activity to drink a sports drink that contains sodium, other electrolytes, and some sugar. Most people don't need sports drinks if they are exercising for less than an hour in moderate temperatures. Plain water is fine.
What are some easy ways to get more water during the day?
Drink a glass of water when you get up in the morning, before you have coffee or tea.
Keep a cup or water bottle by your desk at work. Take several sips of water each hour. If you don't have a desk job, carry a container of water with you, and take sips throughout the day.
Take a sip whenever you pass a drinking fountain.
If you get tired of drinking plain water, add a packet of sugarless flavouring to your water. Or put a slice of lemon or lime in plain or sparkling water.
Is bottled water better than tap water?
No. A lot of plain bottled water is just tap water that has been purified. It's your choice how you want to drink water. If you like bubbly mineral water, drink that. If you like the idea of vitamins and electrolytes in your water, you can find several varieties of enhanced water at the store.
If you don't like the taste of your tap water, or if you just want to be extra careful, you can purify tap water at home. Water filters are available in many stores.
Related Information
References
Citations

Grandjean AC, et al. (2000). The effect of caffeinated, non-caffeinated, caloric, and non-caloric beverages on hydration. Journal of the American College of Nutrition, 19(5): 591–600.
Government of Canada (2013). Health Canada reminds Canadians to manage their caffeine consumption. Available online: http://healthycanadians.gc.ca/recall-alert-rappel-avis/hc-sc/2013/34021a-eng.php.
Credits
Adaptation Date: 1/18/2023
Adapted By: HealthLink BC
Adaptation Reviewed By: HealthLink BC
Adaptation Date: 1/18/2023
Adapted By: HealthLink BC
Adaptation Reviewed By: HealthLink BC
This information does not replace the advice of a doctor. Healthwise, Incorporated disclaims any warranty or liability for your use of this information. Your use of this information means that you agree to the Terms of Use and Privacy Policy. Learn how we develop our content.
Healthwise, Healthwise for every health decision, and the Healthwise logo are trademarks of Healthwise, Incorporated.
Contact Physical Activity Services
If you have questions about physical activity or exercise, call 8-1-1  (or 7-1-1 for the deaf and heard of hearing) toll-free in B.C. Our qualified exercise professionals are available Monday to Friday from 9am to 5pm Pacific Time. You can also leave a message after hours.
Translation services are available in more than 130 languages.
HealthLinkBC's qualified exercise professionals can also answer your questions by email.
Contact a Dietitian
If you have any questions about healthy eating, food, or nutrition, call 8-1-1 (or 7-1-1 for the deaf and hard of hearing) toll-free in B.C. You can speak to a health service navigator who can connect you with one of our registered dietitians, who are available 9am to 5pm Monday to Friday. You can also leave a message after hours.
Translations services are available in more than 130 languages.
HealthLinkBC Dietitians can also answer your questions by email.