Using Telehealth Counseling
Using Telehealth Counseling
Getting Started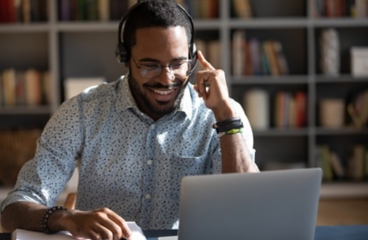 It can be hard to find time for in-person mental health care. Luckily, online video counselling, or teletherapy, can help people get the support they need.
Teletherapy has lots of benefits. Scheduling may be more flexible, so you can choose times that work best for you. You don't have to travel to an office or spend time in a waiting room. You can use your own device in your own home, which may help you feel more comfortable. Some people find it easier to talk to a therapist on a screen than face-to-face. And teletherapy may cost less than regular counselling sessions.
If you're ready to give it a try, follow these steps to get started.
Find a therapist.

Check with your provider. Your provincial health plan website may have a list of therapists who are covered by your plan. If you plan to pay directly, look for a licensed counsellor.

If you've seen a therapist before, ask if they offer teletherapy. Many do these days.

Connect with the therapist.

Make your appointment. Try to choose a time when you'll be alone or won't be interrupted.
Arrange how you'll pay. Have your insurance card ready so they can check your coverage.
Find out what you'll need to be successful. You might need to use a certain internet browser or download an app. You may need to provide an email address so you can get a link to join the session.

Prepare ahead for success.

A day or two before your session:

Choose the device you'll use. This might be a computer, a phone, or a tablet. To get more privacy, you might want to use headphones or earbuds and a mic.
Decide on a location. Choose a place that's private and quiet and has a good internet connection.
Think about the issues you want to discuss. It may help to make notes that you can use during your session.

Get set, and start your appointment.

A few minutes before your appointment:

Check your device. If it isn't fully charged, plug it in. Position the camera the way you want it. Check the audio and video settings.
Gather the things you'll need. Be sure that you have the link to get into your session. Have a pen and paper handy, as well as any notes you made.
Get comfortable. Close the door or do what you can to ensure your privacy. If others are at home, ask them not to disturb you.

Sign into your session a few minutes early. Be ready to introduce yourself and provide some identifiers, like your name and address.

Be patient with the process (and yourself).

At its best, video conferencing is easy to use and works great. But glitches are pretty common. If the video doesn't work, you may be able to continue the appointment with a phone call.

For lots of people, it takes time to find a therapist they connect with. If you have one or two sessions and don't find them helpful, don't give up on counselling. Try again with someone else. A different therapist may be a better fit for you.
Credits
Current as of: June 16, 2021
Author: Healthwise Staff
Medical Review:
Lesley Ryan MD - Family Medicine
Current as of: June 16, 2021
This information does not replace the advice of a doctor. Healthwise, Incorporated disclaims any warranty or liability for your use of this information. Your use of this information means that you agree to the Terms of Use and Privacy Policy. Learn how we develop our content.
Healthwise, Healthwise for every health decision, and the Healthwise logo are trademarks of Healthwise, Incorporated.
Find Services and Resources
If you are looking for health services in your community, you can use the HealthLinkBC Directory to find hospitals, clinics, and other resources.