Teens: Tips for Using News and Social Media in a Healthy Way
Teens: Tips for Using News and Social Media in a Healthy Way
Getting Started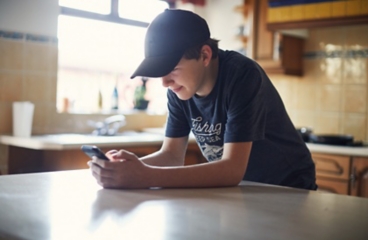 Social media and news can help you stay connected. But it can also be overwhelming. It can disrupt your day. And it's easy to develop habits you didn't mean to.
Try these tips for using social media and news in a healthy way.
Know your goal.

Maybe you want to use social media to share creative things you're working on. If so, use it only for that. Log off after you've shared your work. When it comes to news, it's important to know what's going on in the world. But if you're trying to stay caught up on the day's events, do you need to keep an eye on the headlines all day? Maybe a check-in once a day is enough.

Think about how the news or scrolling through your feeds makes you feel.

Does seeing what friends are sharing make you happy? Or does it make you feel down? Pay attention to how you're feeling the next time you're on social media, and decide if you need to make some changes.

Don't compare your reality to someone else's filter.

People filter what they share on social media in order to tell a specific story about their life. Usually, that story is going to be a shiny one. For example, you might see tons of pictures of all the great things your friend saw and did on a weekend road trip. But you're probably not seeing pictures of the three times she got carsick during the drive. Point is, even if what you're seeing is a true story, remember that it's never the whole story.

Use tools to help you control what you see and when you see it.

Turn off alerts on your phone. That way you can find information you want when you're ready for it, instead of letting it find you.
Sign up for "news roundup" emails. They include only the top headlines or summaries of the day's events.
Unfollow or hide feeds that stress you out. And don't feel bad about doing it. You can still be informed without absorbing all the info that comes your way.
Track the time you spend using social media or reading news. You can do it with an app or manually. If you don't like how those minutes add up, think about how you'd rather use that time. Sometimes it can help to put it into words. For example, "Spend an hour on Facebook, or spend an hour playing basketball with my little sister?" or "Spend an hour reading the news, or spend an hour learning new guitar chords?"

Follow the feel-good stuff.

Let's face it, the news can feel heavy. Try to find balance by focusing on things that make you feel happy. Check out social media accounts that focus on your interests or on things that make you laugh. For example, maybe you could follow some accounts that only post videos of baby animals being adorable. If that's not your thing, no problem. Search for something that is, and see what comes up. Love vintage anime? There's a group for that. Want to share tips and hacks with other gamers? You're not alone.

Set a time to step away.

Make time to disconnect. Close your apps and turn off the TV. Read a book, get outside, draw, call a friend. It doesn't matter what you choose to do. Just make sure it's something that feels supportive and worth your time.
Credits
Current as of: October 20, 2022
Author: Healthwise Staff
Medical Review:
JoLynn Montgomery PA - Family Medicine
Current as of: October 20, 2022
This information does not replace the advice of a doctor. Healthwise, Incorporated disclaims any warranty or liability for your use of this information. Your use of this information means that you agree to the Terms of Use and Privacy Policy. Learn how we develop our content.
Healthwise, Healthwise for every health decision, and the Healthwise logo are trademarks of Healthwise, Incorporated.
Find Services and Resources
If you are looking for health services in your community, you can use the HealthLinkBC Directory to find hospitals, clinics, and other resources.