Mouth and Dental
Learn about mouth and dental health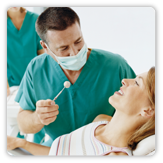 If you've ever had a toothache, you know how much it can hurt. The pain from a cold sore, a canker sore, or an aching jaw can also be hard to deal with. It's important to know when you should see a dentist or a doctor before a problem gets worse. Our topics can help you learn what to do about problems with your mouth and teeth, and they can give you tips on preventing these kinds of problems.
Get the information you need in topics such as:
Current as of: October 6, 2021
This information does not replace the advice of a doctor. Healthwise, Incorporated disclaims any warranty or liability for your use of this information. Your use of this information means that you agree to the Terms of Use and Privacy Policy. Learn how we develop our content.
Healthwise, Healthwise for every health decision, and the Healthwise logo are trademarks of Healthwise, Incorporated.
Find Services and Resources
If you are looking for health services in your community, you can use the HealthLinkBC Directory to find hospitals, clinics, and other resources.