Deciding to Get the COVID-19 Vaccine
Deciding to Get the COVID-19 Vaccine
Overview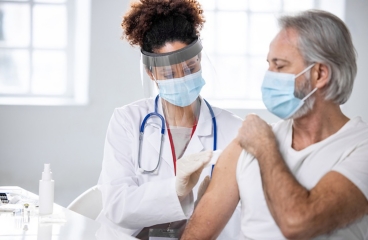 It's important to know the facts about getting the COVID-19 vaccine. Here are some details to help you learn more.
What are the benefits?
Getting the vaccine
The vaccine protects you from getting COVID-19. And if you do get COVID-19 after being vaccinated, you're much less likely to get seriously ill or die.
Even though there is a slight risk of getting and spreading COVID-19 after you're fully vaccinated, the vaccine does help protect others around you. This includes people who are more likely to get very sick or die from COVID-19. If you get the virus, you could spread it to friends, family, and other people in your community who are at high risk. This can happen even if you don't have symptoms. So getting the vaccine can help save lives.
When more people get vaccinated, the disease is less likely to spread. This will help the pandemic end sooner. Then things can return to normal. That means being able to safely go out and see friends and family, meet new people, and do all the activities you enjoy. And it means helping your community thrive.
When you are fully vaccinated, if you have certain health conditions or COVID-19 is spreading in your area, you will need to wear a mask in public indoor and crowded outdoor areas.
Not getting the vaccine
Without the vaccine, you won't be protected from getting the virus. You'll be at higher risk for getting very sick or even dying. And you won't be keeping others safe or helping your community end the pandemic.
Without the vaccine, you will often need to wear a mask to protect yourself and others.
How safe is it?
Getting the vaccine
The vaccine is safe and effective. It's been given to millions of people. Scientists made sure the vaccine was tested for many people of different ages, races, and ethnicities, and for people with different health issues.
You cannot get COVID-19 by getting the vaccine.
Not getting the vaccine
Without protection from the vaccine, you'll be less safe and your risk of getting COVID-19 will stay high. COVID-19 can cause very serious illness and lead to long-term health problems.
What are the side effects and risks?
Getting the vaccine
You may have some side effects after getting the vaccine. This is normal. It means that your body is building protection against COVID-19.
Side effects may include a fever, soreness, and feeling very tired.
The risk of serious problems is very low. Serious allergic reactions to the vaccine are very rare. And they can be treated if they do happen. Right after you get the vaccine, you will be watched closely for any problems. And depending on the vaccine you get, there may be a very small risk of blood clots. If you have questions, talk to your doctor.
Not getting the vaccine
If you don't get the vaccine, you'll be at much higher risk of getting seriously ill or even dying from COVID-19.
For most people, symptoms of COVID-19 are much worse than side effects from the vaccine.
The benefits of getting the COVID-19 vaccine far outweigh the potential risks.
Credits
Current as of: July 1, 2021
Author: Healthwise Staff
Medical Review:
Lesley Ryan MD - Family Medicine
Heather Quinn MD - Family Medicine
Donald Sproule MDCM, CCFP - Family Medicine
Current as of: July 1, 2021
This information does not replace the advice of a doctor. Healthwise, Incorporated disclaims any warranty or liability for your use of this information. Your use of this information means that you agree to the Terms of Use and Privacy Policy. Learn how we develop our content.
Healthwise, Healthwise for every health decision, and the Healthwise logo are trademarks of Healthwise, Incorporated.
Find Services and Resources
If you are looking for health services in your community, you can use the HealthLinkBC Directory to find hospitals, clinics, and other resources.