Complementary Medicine
Learn about complementary medicine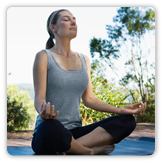 Many people use complementary medicine along with traditional medical care. Complementary medicine therapies, like herbal remedies or yoga, focus on your overall health and may help you feel better. But it's important to discuss any treatments with your doctor and to make sure that these treatments don't replace traditional medical care. Explore our topics to see if these treatments are right for you.
Learn about complementary medicine with topics such as:
Current as of: September 8, 2022
This information does not replace the advice of a doctor. Healthwise, Incorporated disclaims any warranty or liability for your use of this information. Your use of this information means that you agree to the Terms of Use and Privacy Policy. Learn how we develop our content.
Healthwise, Healthwise for every health decision, and the Healthwise logo are trademarks of Healthwise, Incorporated.
Find Services and Resources
If you are looking for health services in your community, you can use the HealthLinkBC Directory to find hospitals, clinics, and other resources.