Coenzyme Q10
Treatment Overview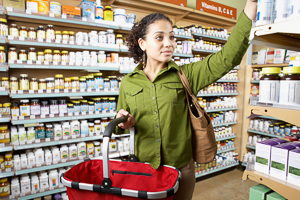 Coenzyme Q10 (CoQ10) is a substance similar to a vitamin. It is found in every cell of the body. Your body makes CoQ10, and your cells use it to produce energy your body needs for cell growth and maintenance. It also functions as an antioxidant, which protects the body from damage caused by harmful molecules. CoQ10 is naturally present in small amounts in a wide variety of foods, but levels are particularly high in organ meats such as heart, liver, and kidney, as well as beef, soy oil, sardines, mackerel, and peanuts.
Coenzymes help enzymes work to digest food and perform other body processes, and they help protect the heart and skeletal muscles.
CoQ10 is available in Canada as a natural health product. It is also known as Q10, vitamin Q10, ubiquinone, or ubidecarenone.
Why It Is Used
People take coenzyme Q10 (CoQ10) supplements for many reasons, including to boost energy, to speed recovery from exercise, and to help reduce the effects certain medicines can have on the heart, muscles, and other organs.
There is some evidence that coenzyme Q10 may help to:
Reduce symptoms from taking statins, such as muscle pain, tenderness, weakness, cramping, or fatigue.

footnote

1
Stimulate the immune system.

footnote

2
Protect the heart from being damaged from certain chemotherapy medicines.

footnote

2
Risks
Taking coenzyme Q10 (CoQ10) may cause mild insomnia or a rise in liver enzymes in some people. Other reported side effects include rashes, nausea, upper abdominal pain, dizziness, sensitivity to light, irritability, headache, heartburn, and fatigue.
Taking CoQ10 can reduce the body's response to the blood thinner (anticoagulant) medicine warfarin.
The Natural and Non-Prescription Health Products Directorate (NNHPD), within the Health Products and Food Branch of Health Canada, regulates natural health products in Canada. Natural health products, including CoQ10, must be reviewed and approved by the NNHPD before they can be sold in Canada.
Always tell your doctor if you are using a natural health product or if you are thinking about combining a natural health product with your conventional medical treatment. It may not be safe to forgo your conventional medical treatment and rely only on a natural health product. This is especially important for women who are pregnant or breastfeeding.
When using natural health products, keep in mind the following:
Like conventional medicines, natural health products may cause side effects, trigger allergic reactions, or interact with prescription and non-prescription medicines or other natural health products you might be taking. A side effect or interaction with another medicine or natural health product may make other health conditions worse. Always tell your doctor or pharmacist about all natural health products you are taking.
The way natural health products are manufactured may not be standardized. Because of this, how well they work or any side effects they cause may differ among brands or even within different lots of the same brand. The form of natural health product that you buy in health food or grocery stores may not be the same as the form used in research.
Other than for vitamins and minerals, the long-term effects of most natural health products are not known.
Related Information
References
Citations

Qu H, et al. (2018). Effects of coenzyme Q10 on statin-induced myopathy: An updated meta-analysis of randomized controlled trials. Journal of the American Heart Association, 7(19): e009835. DOI: 10.1161/JAHA.118.009835. Accessed July 22, 2021.
National Cancer Institute (2021). Coenzyme Q10 (PDQ)—Health Professional Version. National Cancer Institute. https://www.cancer.gov/about-cancer/treatment/cam/hp/coenzyme-q10-pdq. Accessed July 22, 2021.
Credits
Current as of:
January 3, 2022
Author: Healthwise Staff
Medical Review:
Adam Husney MD - Family Medicine
Current as of: January 3, 2022
This information does not replace the advice of a doctor. Healthwise, Incorporated disclaims any warranty or liability for your use of this information. Your use of this information means that you agree to the Terms of Use and Privacy Policy. Learn how we develop our content.
Healthwise, Healthwise for every health decision, and the Healthwise logo are trademarks of Healthwise, Incorporated.
Find Services and Resources
If you are looking for health services in your community, you can use the HealthLinkBC Directory to find hospitals, clinics, and other resources.