Breaking the Cycle of Emotional Eating
Breaking the Cycle of Emotional Eating
Getting Started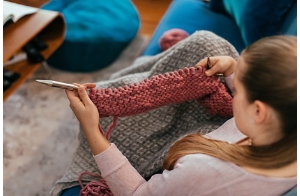 If you struggle at times with emotional eating, you're not alone. A lot of people eat for reasons other than hunger, like boredom or stress. But there are ways you can break this cycle.
Find your personal reason.

Why does being healthier matter to you? Many people think of losing weight as motivation for healthy eating. But weight loss is a process, not something you get right away. So it may be hard to stay motivated, because you don't get instant results. It may help to focus on the immediate benefits of healthier eating. For example: maybe you want to have more energy to do things you enjoy. Or maybe you want to set a healthy example for others.

As you work on changing your eating habits, remember why it matters to you. If it helps, write down your reason and put it someplace where you'll see it often.

Let your future inspire you.

Picture yourself in the future. Imagine that you've made some small changes to your eating habits, like keeping some healthy snacks handy.

Imagine you've found new, healthy ways to deal with stress or negative thoughts—and they don't involve food. For example, maybe you're calling a friend more often, taking walks, or spending time on a favourite hobby. How would you feel different about yourself and your life? Maybe you'd have more energy or feel a little more confident. Or maybe you'd start doing more activities with friends. You might even feel a little more in control of your life.

Make small, gradual changes.

What are some small, simple changes that feel doable? What new approaches might you try? Over time, small things can add up to changes that you feel really good about. Here are some ideas:

Try to be more aware of when you really feel hungry.
Pick a healthy food that you truly enjoy. Try to savour each bite.
Choose some new healthy foods to add to your meals, instead of avoiding certain foods.
Find a new activity to help you deal with stress, like biking or starting a new hobby. When you feel stressed and want to eat, try doing the activity for at least 15 minutes. You may feel less of an urge to eat.

Get started with confidence.

Think of a small healthy change you'd like to make. Ask yourself how confident you feel in making this change. Write down your thoughts.

Start with something small that feels doable, and go from there. That future you imagined may not be so far away after all.
Related Information
Credits
Current as of: March 1, 2023
Author: Healthwise Staff
Medical Review:
Heather Quinn MD - Family Medicine
Current as of: March 1, 2023
This information does not replace the advice of a doctor. Healthwise, Incorporated disclaims any warranty or liability for your use of this information. Your use of this information means that you agree to the Terms of Use and Privacy Policy. Learn how we develop our content.
Healthwise, Healthwise for every health decision, and the Healthwise logo are trademarks of Healthwise, Incorporated.
Find Services and Resources
If you are looking for health services in your community, you can use the HealthLinkBC Directory to find hospitals, clinics, and other resources.