Brain and Nervous System
Learn about the brain and nervous system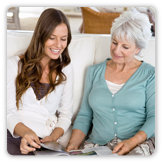 Your brain and your nervous system work together to help you do things like see, smell, taste, feel, and move. Your nervous system sends signals to your brain to control these important functions. It also takes messages from your brain to your muscles, organs, and skin. But sometimes there is a problem, and the signals can't be sent. For example, with Parkinson's disease, nerve cells in the brain break down and can't send signals, so you may have trouble moving the way you want to. Other problems, like vertigo, happen when your sensing systems send false signals to your brain.
Our topics can help you learn more about your brain and nerve symptoms. Find out about certain diseases and disorders so you can understand the best treatment for your needs. To get started, explore these brain and nervous system topics:
Current as of: August 25, 2022
This information does not replace the advice of a doctor. Healthwise, Incorporated disclaims any warranty or liability for your use of this information. Your use of this information means that you agree to the Terms of Use and Privacy Policy. Learn how we develop our content.
Healthwise, Healthwise for every health decision, and the Healthwise logo are trademarks of Healthwise, Incorporated.
Find Services and Resources
If you are looking for health services in your community, you can use the HealthLinkBC Directory to find hospitals, clinics, and other resources.