Aromatherapy (Essential Oils Therapy)
Aromatherapy (Essential Oils Therapy)
Treatment Overview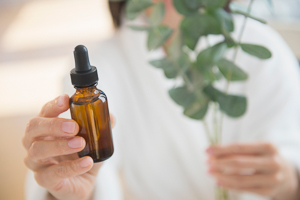 Aromatherapy, or essential oils therapy, is a complementary therapy that uses a plant's aroma-producing oils (essential oils). Essential oils are taken from a plant's flowers, leaves, stalks, bark, rind, or roots. The oils are mixed with another substance (such as oil, alcohol, or lotion) and then put on the skin, sprayed in the air, or inhaled. You can also massage the oils into the skin or pour them into bath water. Aromatherapy as used today originated in Europe and has been practiced there since the early 1900s.
There are many essential oils used in aromatherapy, including bergamot, chamomile, cedarwood, ginger, lavender, lemon, and tea tree oils.
Practitioners of aromatherapy believe that fragrances in the oils stimulate nerves in the nose. Those nerves send impulses to the part of the brain that controls memory and emotion. Depending on the type of oil, the result on the body may be calming or stimulating.
The oils are thought to interact with the body's hormones and enzymes to cause changes in blood pressure, pulse, and other body functions. Another theory suggests that the fragrance of certain oils may stimulate the body to produce pain-fighting substances.
Why It Is Used
Aromatherapy may promote relaxation and help relieve stress. It has also been used to help with anxiety, insomnia, and to ease pain during menstruation, labour, and childbirth. Therapeutic massage with essential oils may help with pain from osteoarthritis and other conditions. But there is little scientific evidence that aromatherapy effectively prevents or cures illness.
Risks
Practitioners of aromatherapy are not specially licensed in Canada. A wide range of licensed health professionals (such as massage therapists, nurses, and counsellors) may have experience and training in aromatherapy. It is important to talk with your medical doctor to see whether aromatherapy may be helpful and safe for your specific health condition.
Do not swallow the oils used in aromatherapy. Many of the oils are potent and can be dangerous if taken internally (swallowed).
Some oils are dangerous for children. Some oils cause rashes. And some can interfere with a child's hormones, causing problems like abnormal breast growth. Nor should anyone use oils near the eyes or mouth, because irritation of the skin and membranes may occur.
People with certain chronic illnesses or conditions should not use aromatherapy without first consulting a doctor. These illnesses and conditions include:
Lung conditions such as asthma, respiratory allergies, or chronic lung disease. Oils may cause airway spasms.
Skin allergies. Some oils may cause skin irritation, especially in the membranes of the eyes, nose, and mouth.
Pregnancy. Some oils (such as juniper, rosemary, and sage) may cause uterine contractions.
Talk with your doctor about any complementary health practice that you would like to try or are already using. Your doctor can help you manage your health better if they know about all of your health practices.
Related Information
Credits
Current as of: September 8, 2022
Author: Healthwise Staff
Medical Review:
Adam Husney MD - Family Medicine
Current as of: September 8, 2022
This information does not replace the advice of a doctor. Healthwise, Incorporated disclaims any warranty or liability for your use of this information. Your use of this information means that you agree to the Terms of Use and Privacy Policy. Learn how we develop our content.
Healthwise, Healthwise for every health decision, and the Healthwise logo are trademarks of Healthwise, Incorporated.
Find Services and Resources
If you are looking for health services in your community, you can use the HealthLinkBC Directory to find hospitals, clinics, and other resources.